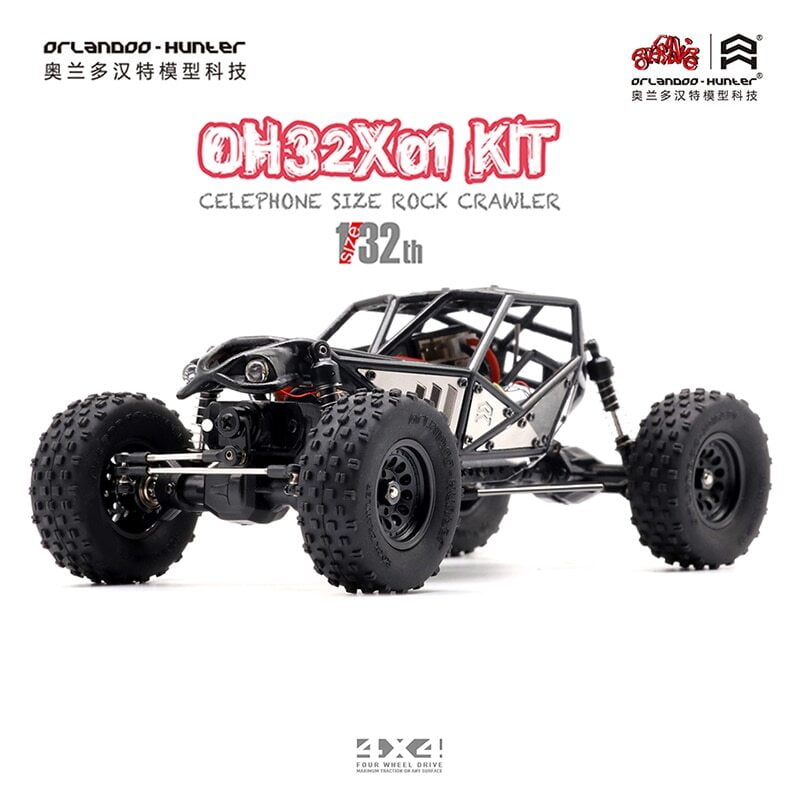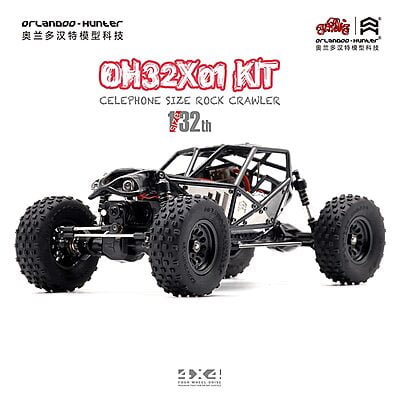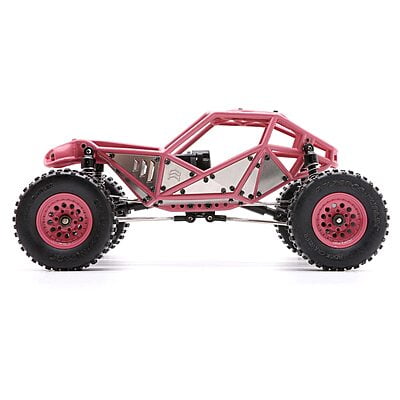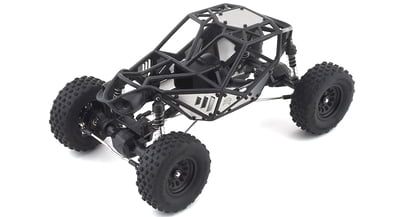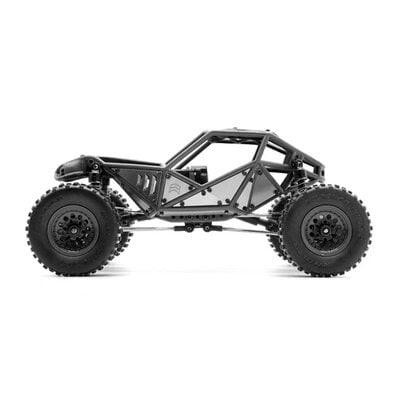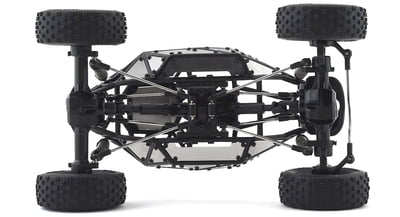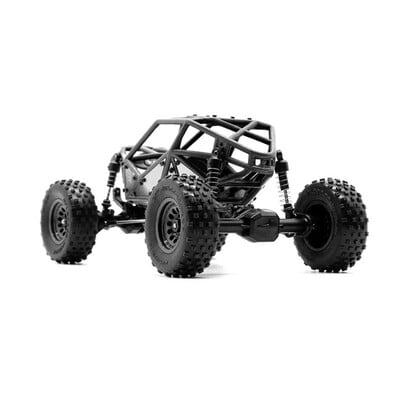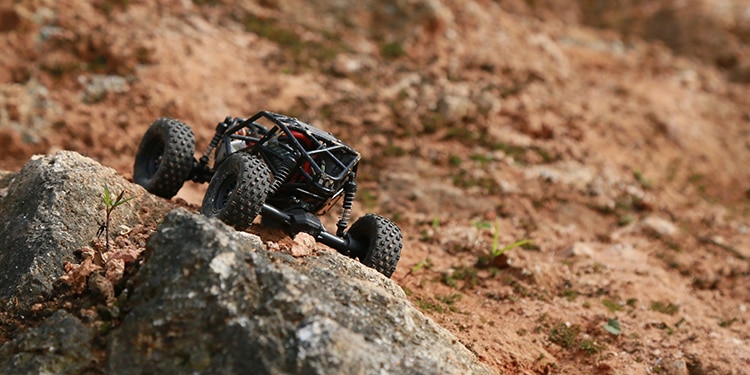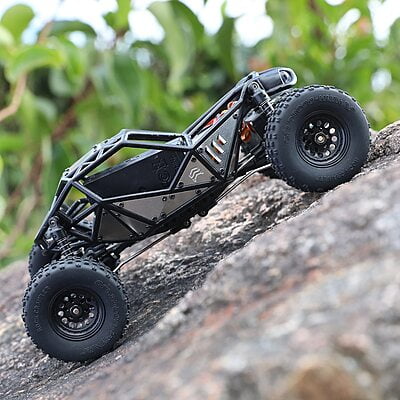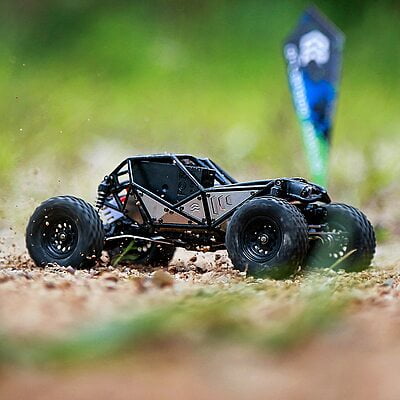 Orlandoo Hunter Rock Bouncer Crawler 1/32
Description
We are happy to introduce the Orlandoo Hunter OH32X01 Rock Bouncer kit. This 1/32 scale rock bouncer is truly X-rated from every angle! Beautiful to behold, the lines of its 3D printed, hard coated exocage chassis are perfectly complemented by the laser-cut body panels, complete with louvred vents and engraved OH logo. You can paint the cage in the color of your choice, or stick with the stock black finish. It also incorporates mounting holes for twin 4mm front LEDs and a single rear cluster for three SMDs (not included).
Don't be fooled by the diminutive size. This cellphone sized rock bouncer is an incredibly capable, hobby grade RC, offering fantastic off-road performance right out of the box! Not only do you get trail-proven Orlandoo running gear, you also have a lightweight body, oversize wheels and super soft scale tires. You have no front or rear overhangs to worry about. You also have wider track, and increased ground clearance, combined with incredibly low CoG. This little beast comprehensively out-performs its Orlandoo brethren and you will be amazed as it scampers across the terrain like a spider on steroids!
This kit also shares many parts with the the Orlandoo 'A' series micro scale trucks (OH35A01 Jeep, OH32A02 Pajero and OH32A03 Defender). It requires the same N20 sized motor and also uses the familiar transfer case and skid. You get the tried and tested four-linked 'A' axles, although this time in the wider 56mm iteration. Standard Orlandoo friction shocks (with softer springs) hold up each corner and 30mm plastic driveshafts round out the running gear.
For those who like their bling, hop-up machined alloy transfer box and skid are also already available in red, orange or silver anodized finishes. You can even fit the optional 'Reverse' transfer box to gain counter-rotating driveshafts, reducing torque roll. You can also upgrade to MD5-300 metal driveshaftsor MD3-300 superfine CVD shafts. For the ultimate bouncer, you can also addMA2 alloy-cased axlesin silver or red and black anodized finish. With this additional low-down weight you will really notice the X01 sticking to the rocks like glue.
We are also proud to offer our very own premium CNC alloy beadlock 18mm wheels – the perfect match for this Rock Bouncer. Available in polished silver or anodized black, we have these wheels in limited quantities and you won't find them anywhere else.
Finally, you can choose to swap out the (admittedly very nice) kit tires for 18mm ID tires from the Geko24 range. These fit both the Orlandoo Hunter OH32X01 Rock Bouncer kit wheels and the Tiny4x4 beadlock wheels perfectly. The Geko24 GK-3318 tires are a similar 33mm outer diameter, or go all out with the 36mm GK-365181 tires.
The OH32X01 Rock Bouncer is an unassembled kit, and requires servo, ESC, motor and battery for completion. You will also need radio gear of your choice. Please also note that space inside the cage is VERY limited. Orlandoo recommend a 120MaH 2S LiPo battery. The Orlandoo D4L Radio comes with an all-in-one receiver/ESC/light/sound controller and offers a compact footprint. Otherwise we would recommend the TS0001 Orlandoo ESC and a nano sized receiver such as the DasMikro FlySky-compatible unit. You may also be able to fit other smaller footprint receivers, particularly if you are willing to de-case your receiver and fit only the circuit board. This is not a toy and some modelling experience is recommended.
Features: Orlandoo Hunter OH32X01 Rock Bouncer Kit
3D Printed, coated Exocage
Laser-cut metal body panels
Micro size perfect for home or office use
Full time shaft drive 4WD
Super grippy scale tread pattern tires
Included building tools
Realistic 4-Link suspension
Friction dampers
Specifications: Orlandoo Hunter OH32X01 Rock Bouncer Kit
Length: 122mm
Width: 70mm
Height: 55mm
Track: 61mm
Wheelbase: 89mm
Needed To Complete:
7.4V 2S 120mAh LiPo Battery
Plastic Model Paint (optional, for cage and wheels)
EITHER:
OR:
NOTES:
Kit assembly may require some parts may need to be slightly sanded or trimmed to get a perfect finish.
Complete and painted truck shown for illustrative purposes only. Assembly and painting required.